Aalborg is a Danish city introduced in Euro Truck Simulator 2: Scandinavia DLC.
Similar to other cities introduced in the expansion, Aalborg has larger footprint and greater variety of industries than cities featured in previous titles.
Topology
Edit
The city can be treated as having three distinct parts – the city centre, the eastern industrial zone, and the western industrial zone. The eastern zone is to the east of the E45 highway, while the other two zones are to the west. Nonetheless, truckers have to access the city centre in order to reach the eastern zone.
The link road between the eastern zone and the city centre has a speed limit of 70 km/h (43 mph). Elsewhere, the speed limit is 50 km/h (31 mph). Speed cameras are installed on the connection between the city centre and the western industrial zone.
Companies
Edit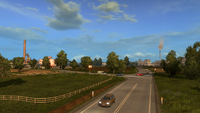 There are seven companies having depots in Aalborg.
An Aria depot is situated to the far west of the city. Approaching the city centre, there's an IKA and a Norrsken depot situated side-by-side.
The city centre is populated by facilities, with only Polar Fish having a depot there. The depots of the remaining three companies – Nordic Crown, NS Oil and Vitas Power – are all in the eastern industrial zone.
Facilities
Edit
All facilities are situated in the city centre, including:
Connections
Edit
The E45 highway serves as the only connection to Aalborg in-game.
See Also
Edit