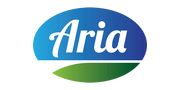 ARIA Food (commonly "Aria") is a Scandinavian food processing company with depots in Denmark and Sweden.
Cargo Types Accepted
Edit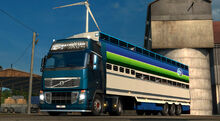 Aria depots accept the following cargoes:
Desinfection
Diesel
Digger 1000
Empty Tank
High Pressure Tank
Live Cattle
Lumber
Saw Panels
Tractors
Ventilation Tube
Wooden Beams
Wood Shavings
Cargo Types Produced
Edit
Aria depots produce the following cargoes:
Beef
Cheese
Chicken
Cottage Cheese
Dry Milk
Live Cattle
Milk
Pork
Sheep Wool
Tractors
Depot Locations
Edit
Aria depots are situated in the following cities:
The name 'Aria' is thought to be based on that of the Danish dairy products Arla Foods.
See also
Edit
Ad blocker interference detected!
Wikia is a free-to-use site that makes money from advertising. We have a modified experience for viewers using ad blockers

Wikia is not accessible if you've made further modifications. Remove the custom ad blocker rule(s) and the page will load as expected.