CA-110 is an unmarked freeway on the map that runs southwesterly off I-5 in Los Angeles, goes west through part of downtown, then heads north, becoming a one lane road near the beach. It merges with CA-1 near Oxnard. While truck accessible in the game, IRL, the Pasadena Freeway is off limits to commercial vehicles, especially semis.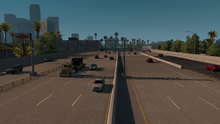 Ad blocker interference detected!
Wikia is a free-to-use site that makes money from advertising. We have a modified experience for viewers using ad blockers

Wikia is not accessible if you've made further modifications. Remove the custom ad blocker rule(s) and the page will load as expected.