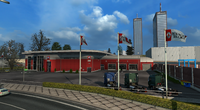 Truck Dealerships
are locations in
Euro Truck Simulator 2
shown on the game map with this icon :

Even if there are 2 types of dealership, larger ones and smaller ones, they act in the same way as the player can purchase and customise the truck he wants to drive. Both of them are opened from Monday to Saturday from 8 a.m. to 6 p.m.
The larger dealership is the only one which features a reststop (

) and services (

) opened non-stop for the player to repair and upgrade his truck.
Once the player has purchased at least 5 trucks, he unlocks the possibility to purchase trucks online (from the menu).
Large Dealerships
Edit
| Brand | Country | City |
| --- | --- | --- |
| DAF | France | Bordeaux |
| DAF | Italy | Catania |
| DAF | Netherlands | Amsterdam |
| DAF | United Kingdom | Glasgow |
| Iveco | Austria | Wien |
| Iveco | Denmark | København |
| Iveco | France | Le Mans |
| Iveco | Germany | Frankfurt am Main |
| Iveco | Italy | Roma |
| MAN | France | Marseille |
| MAN | Germany | Berlin |
| MAN | Germany | Munchen |
| Mercedes-Benz | Germany | Stuttgart |
| Mercedes-Benz | Poland | Warszawa |
| Mercedes-Benz | Switzerland | Genève |
| Renault Trucks | Czech Republic | Praha |
| Renault Trucks | France | Paris |
| Renault Trucks | France | Toulouse |
| Renault Trucks | Hungary | Budapest |
| Scania | Germany | Hannover |
| Scania | Italy | Firenze |
| Scania | Italy | Milano |
| Scania | United Kingdom | Manchester |
| Scania | Sweden | Stockholm |
| Volvo | Italy | Napoli |
| Volvo | Luxembourg | Luxembourg |
| Volvo | United Kingdom | London |
| Volvo | Sweden | Göteborg |
| Volvo | France | Limoges |
Small Dealerships
Edit