"Italy is a country famous for its cuisine, fashion, art and architecture. It covers an area of 301,338 square km and has a total of 487,700 km of paved roads, 6,700 km of which are motorways. It has both great ski resorts in the Alps and lovely beaches by the sea."
— Official Euro Truck Simulator 2 Website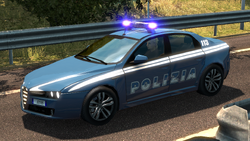 Italy (Italian: Italia) is an accessible country first appearing in Euro Truck Simulator. It is located to the south of the map, and consists of 4 different cities, all of which are in northern italy. The speed limit for trucks is 50km/h in cities, 70km/h on overland roads and 80km/h on highways.
Accessible Cities
Edit
Two Italian cities are featured in Euro Truck Simulator:
By Euro Truck Simulator 2, Rome is omitted but two other cities (Torino and Verona) are introduced along with Milano. Further east, Venezia is introduced in a free software update.
Connections
Edit
Ten Italian Autostrade are featured in Euro Truck Simulator 2:
During Development of Euro Truck Simulator 2, Italy was supposed to have Bologna, Ancona, Genoa and Rome, but due to time constraints they were cut.

Italy would likely become the next country to be expanded in a future DLC after France with Vive Le France DLC, and will feature Italy's island Sicilia.

In Euro Truck Simulator 2, This is (currently) the only country not to have an accessible capital.
In other Languages
Edit
| Language | Name |
| --- | --- |
| Italian | Italia |
| German | Italien |
| French | Italie |
| Spanish | Italia |
| Polish | Włochy |
| Dutch | Italië |
Ad blocker interference detected!
Wikia is a free-to-use site that makes money from advertising. We have a modified experience for viewers using ad blockers

Wikia is not accessible if you've made further modifications. Remove the custom ad blocker rule(s) and the page will load as expected.