The Job Market is the central hub for all the cargo deliveries in Euro Truck Simulator 2 and American Truck Simulator. Jobs are divided into four different types: Quick Jobs, Freight Market, External Contracts (if the player have linked his account with World of Trucks) and Cargo Market (if you have your own trailer). Each has its own advantages and disadvantages.
All jobs that are currently available to the player can be selected as either a Quick Job, through the Freight Market or with World of Trucks. If you find a high-paying job that starts in a far away city, you can drive all the way there and take the job yourself, or you can just select it in Quick Job and you'll be teleport there immediately.
Quick Jobs
Edit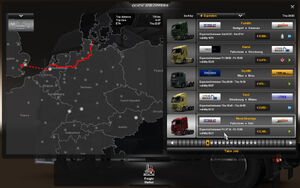 In the Quick Jobs section, the player works as a driver-for-hire. You are presented with a variety of cargo options based on your XP level and the skills you have acquired. When you take a Quick Job, you are immediately teleported into a new truck and your cargo is already hooked up and ready to go, just turn the key and drive. All your expenses along the way are paid by the employer. This includes fuel, tolls, and fares, but does NOT include personal fines such as red light and speeding offences.
The player won't be able to customize the truck while he is driving, because it isn't his truck.
Freight Market
Edit
The Freight Market is the way to select jobs if you want to work with your own truck (The company doesn't provide it). This comes with many benefits and some drawbacks. 
The main benefit is, of course, more money! Taking a job through the Freight Market yields a higher profit. On the downside, you do have to pay for your own
fuel
, motorway
tolls
, and
ferry
/
train
rides. The higher pay greatly outweighs these expenses in most cases. The other benefit is that you obviously use your own
truck
.
When you select a job through the Freight Market, instead of being teleport, the pickup location will be marked on your GPS. Once you arrive at the
business
, stop in the green marker and you will be able to select your desired job. Once you have done this, your trailer will be marked on the map and in-world. You must reverse to the trailer and couple to it (Default key "T") before you can set off toward your destination. Once you're hooked up, everything is the same as for a quick job.
Only trailer damage will count against your pay when working with your own truck, but remember that you will have to repair cab damage at your own expense later.
External Contracts
Edit
External Contracts are very similar to the Freight Market. You still need your own truck and the same expenses and rewards apply. However, the jobs are synced to your World of Trucks account. When you are looking for these jobs you can only see them in the cities near you, not the whole map. A circle around your truck location will indicate that. When you accept the contract it's immediately given to you, unlike the Freight Market where you have to drive to the company to accept the contract. In American Truck Simulator, your speed limit is limited to 65 mph (105 km/h). In Euro Truck Simulator 2, your speed is limited to 90 km/h.
Cargo Market
Edit
Cargo Market was introduced in version 1.32 update. It also very similar to the Freight Market. However, you can use your own trailer to delivery cargo which has been shown on the image instead of a picture of the company's trailer. Firstly after choosing a job in a company, you have to park the trailer to load the cargoes. After the cargo has been loaded, you have to drive to the direction in your Route Advisor. The damage of your trailer can be fixed at service center with your own cash. However after the official release, you have to stop the engine first before load or unload cargoes.