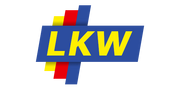 LkwLog GmbH (commonly referred to as LKW) is a German logistics company which appears in Euro Truck Simulator 2.
Cargo Types
Edit
LKW's warehouses accept and deliver 121 different types of cargo. These types have no common theme and are the same goods, which are also transported by Posped, Stokes, Tradeaux and Transinet.
Accepted & Provided
Air Conditioners (DLC), Almond, Apples, Atlantic Cod Fillet, Barley, Beans, Beef, Beverages, Big-Bags of Seeds, Brake Fluid, Canned Beans, Canned Beef, Canned Pork, Canned Tuna, Carrots, Cars, Caviar, Cement, Cheese, Chemical Sorbent, Chicken Meat, Chimney Systems, Clothes, Copper Roof Gutters, Cottage Cheese, Cut Flowers, Desinfectant, Diesel, Digger 500, Digger 1000, Diggers, Driller D-50 (DLC), Dry Milk, Electronics, Empty Barrels, Empty Palettes, Excavators (DLC), Fish Fingers, Floor Panels, Flour, Forklifts, Fresh Gish, Frozen Hake, Fuel Tanks, Furniture, Gas, Gas Pipeline Parts (DLC), Garlic, Glass Panels, Goat Cheese, Grapes, Graphite, Grass Rolls, Gravel, Grease, Helicopter (DLC), Honey, IBC Containers, Ice Cream, Iron Pipes, Ketchup, Lamb Stomachs, Large Tubes, Liver Paste, Logs, Low Bed Semi-Trailers, Maple Syrup, Mason Jars, Metal Cans, Office Paper, Oil Filters, Onions, Oranges, Ore, Packed Glass, Peanut Butter, Pears, Peas, Pet Food, Plastic Film Roles, Plastic Granules, Plums, Polystyrene Boxes, Pork, Pot Flowers (DLC), Potatoes, Precast Stairs, Pressure Tank, Reservoir Tank, Racing Components, Rice, Roller DYNA CC-1100 (DLC), Roof Tiles, Roofing felt, Rooflights, Rye, Sand, Sandwich Panels, Salmon Fillet, Salt & Spices, Sausages, Sawdust Panels, Sheep Wool, Shock Absorbers, Smoked Eel, Smoked Sprats, Straw Bales, Sugar, Tableware, Tires, Tomatoes, Toys, Tracks (DLC), Tractor RS-666 (DLC), Tractors, Transmissions, Truck Batteries, Truck Rims, Truck Tires, Used Plastics, Used Packaging, Ventilation Shaft, Vinegar, Watermelons, Wheat, Wind Turbine Nacelle (DLC), Wood Bark, Wood Shavings, Yacht (DLC), Yoghurt
Depot Locations
Edit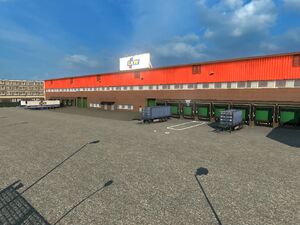 The company has 17 logistics warehouses spread across mainland Europe:
LKW is the German abbreviation for the word "truck". There is also a European logistics company called LKW Walter, which derives the colors and logo.
See also
Edit