Oakland Shippers is a container shipping company in American Truck Simulator.
Location
Edit
Cargo Types
Edit
Accepted
Edit
Aromatics
Beverages
Bottles
Car Components
Cars
Clothes
Computers
Diesel
Electronics Components
Flour
Forklifts
Frozen Food
Frozen Fruits
Frozen Vegetables
Large Tubes
Machine Parts
Office Supplies
Silica
Sugar
Tablecare
Toys
TVs
Vegetables
Provided
Edit
Beverages
Bottles
Car Components
Cheese
Clothes
Electronics Components
Empty Tank
Flour
Food
Forklifts
Frozen Food
Frozen Fruits
Frozen Vegetables
Furniture
High Pressure Tank
Home Accessories
Househop_Appl ?
Ice Cream
Large Tubes
Lumber
Machine Parts
Office Supplies
Potassium
Rice
Sugar
Tableware
Toys
TVs
Wood Shavings
Yogurt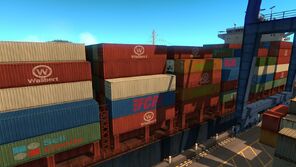 In the Oakland Shippers port, the player is able to see Chemso, FCP, Sell Goods and Wallbert containers!
Related Company
Edit
Ad blocker interference detected!
Wikia is a free-to-use site that makes money from advertising. We have a modified experience for viewers using ad blockers

Wikia is not accessible if you've made further modifications. Remove the custom ad blocker rule(s) and the page will load as expected.