Player will be given a sat nav, called Route Advisor. It displays player's current status and helps player with information abour player's current job and point player where to go.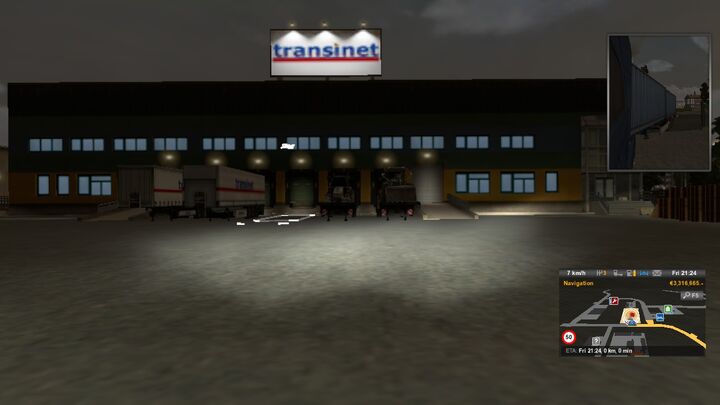 Route advisor can be controlled using mouse when the game paused (by pressing F1). There is also shortcut key to the most often used functions, which can be used during driving. These can be changed in the options menu. The available hotkey are suggested directly in Route Advisor. By pressing F3 you can toggle between normal, transparent and invisible.
The main display of Route Advisor:
At top: Player's current status such as (start from left): Speed, gear ,damage, fuel, fatigue, e-mail indicator, time and player money.
At centre: Contents of selected pages
At below: Page toggles (switch between navigation, current job description, truck diagnostic and short message). Player can switch pages using hotkeys that has been displayed.
The blue arrow on the map show the player's current postion. When delivering cargo, it shows the shortest route of the destination is red with green arrow. The route with yellow coloured shows the route that has been discovered by player.
At bottom of the page, there is estimation of remaining trip time and distance called Estimated Time Arrival (ETA).
Player can cycle to different zoom levels of map by pressing F5 or click the button that has magnifying glass.
Job Description (F6)
Edit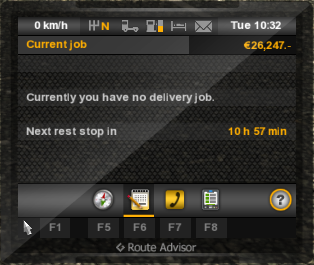 The job description page summarizes what player carrying and where it need to be delivered. It tells when player expected, how much time left to deliver cargo, how much money will be receive when delivered on time without damaging the cargo.
It also tell how many hour player can drive before resting.
Truck Diagnostic (F7)
Edit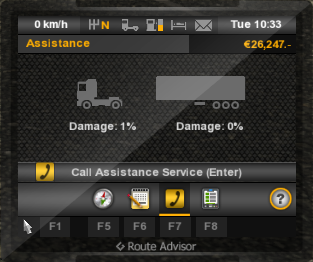 On this page, player can see how many percent the truck and cargo damaged. Truck damage can be repaired at service station but the cargo damage will be permanent which it will affect money that will be receive.
If player stuck on road, they can call Assistance Service by pressing Enter while in this page or by clicking the button. They will take player to nearest service station for a fee and it take many hours to send.
Short Message (F8)
Edit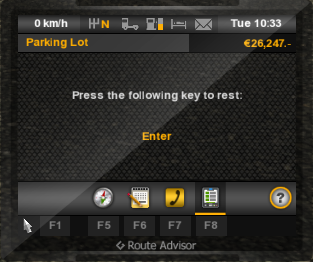 Short message usually show automaticly when player prompting some action like:
Connecting or disconnecting trailer
Engaging parking brake
Engaging retarder
Resting
Filling fuel
There is another message that show automaticly without prompting some action such as:
Getting fines
Received an e-mail
Engine malfunction
Unable to lift axle
Discovered truck dealership or recruitment agency
Ad blocker interference detected!
Wikia is a free-to-use site that makes money from advertising. We have a modified experience for viewers using ad blockers

Wikia is not accessible if you've made further modifications. Remove the custom ad blocker rule(s) and the page will load as expected.