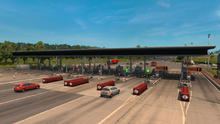 Toll gates
or
toll booths
are obstacles found in several places in the
Euro Truck Simulator 2
and
American Truck Simulator
game map. Truckers either have to pay a toll to pass or "get a ticket" such that a toll can be collected when they leave the tolled section. Tolls range from 3 to 234
Euros
.
In this wiki, the term toll road refers to roads that have toll gates. Toll roads are present in the following countries:
Toll routes are also present in American Truck Simulator in the following states:
California (This is the only area in the game that allows truckers to pass through an open toll booth without stopping, and the price of the toll is automatically paid.)
If one tries to drive through an open toll gate, it will begin to close onto your truck. This will cause a collision and the truck / trailer could be damaged.
If one manages to skip the toll gate via glitching, the player would be fined for a red light offence.
Highways are free in Denmark and Sweden, with the exception of the Great Belt bridge and the Oresunds Bridge, which charges the most expensive toll in the game.
Highways in the real world are free in Norway, except for some big tunnels or bridges, and newly built roads. In the game, though, many of the Norwegian roads featured are toll roads.
As in real-life, France is the country with the most toll roads in the game, because they use the funds for highway maintenance across the country. Those toll booths can usually be found every 50 - 100 km.
With the release of the Scandinavia DLC, some toll booths feature an AutoPass / Telepass lane, allowing truckers to drive through without stopping or being fined. A toll is deducted once the truck passes the lane. This was later also introduced in France update 1.26 and also in Vive la France! Those are own by the in game company Gofiroute, a parody of Cofiroute, a highway network own by Vinci Autoroutes.
Toll routes in California are charged more for vehicles with more axles, and this is implemented in American Truck Simulator. Also in California, there is a feature where you can drive by with auto-payment, and in real life, the automatic toll payment system is called Fastrak in California.
Ad blocker interference detected!
Wikia is a free-to-use site that makes money from advertising. We have a modified experience for viewers using ad blockers

Wikia is not accessible if you've made further modifications. Remove the custom ad blocker rule(s) and the page will load as expected.