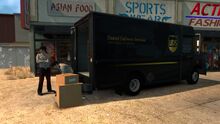 UDS (United Delivery Services) is a package delivery company in American Truck Simulator. It's slogan is Your money, our pleasure. The company appears as delivery trucks, which are driving on the street or standing in cities.
UDS is a parody of the worlds largest package delivery company UPS
Ad blocker interference detected!
Wikia is a free-to-use site that makes money from advertising. We have a modified experience for viewers using ad blockers

Wikia is not accessible if you've made further modifications. Remove the custom ad blocker rule(s) and the page will load as expected.