Wallbert is a supermarket chain and also a company featured in American Truck Simulator. The company operates in Arizona, California, Nevada, New Mexico and Oregon.
Wallbert is a parody of the real-life chain store Walmart.
Locations
Edit
The company has 67 depots in all states of the game. Threre are five different types of Wallbert depots: Two big market types, one small food market type and two warehouse types.
| State | Big Market | Food Market | Warehouse | Food Warehouse |
| --- | --- | --- | --- | --- |
| Arizona | | | | |
| California | | | | |
| Nevada | | | | |
| New Mexico | | | | |
| Oregon | | | | |
| Washington | | | | |
 Cargo Types
Edit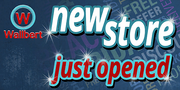 Big Market
Food Market
Accepted
Provided
Accepted
Provided
Clothes
Empty Palettes
Beverages
Empty Palettes
Computers
Used Packages
Cheese
Used Packages
Fireworks
Flour
Furniture
Frozen Food
Home Accessories
Frozen Fruits
Household Appliances
Frozen Vegetables
Office Supplies
Fruits
Tableware
Ice Cream
Toys
Meat
TVs
Packaged Food
Rice
Sugar
Vegetables
Yogurt
Warehouse
Food Warehouse
Accepted
Provided
Accepted
Provided
Clothes
Clothes
Beverages
Beverages
Computers
Computers
Cheese
Cheese
Curtains
Fireworks
Empty Palettes
Flour
Empty Palettes
Furniture
Flour
Frozen Food
Fireworks
Home Accessories
Forklifts
Frozen Fruits
Forklifts
Household Appliances
Frozen Food
Frozen Vegetables
Furniture
Office Supplies
Frozen Fruits
Fruits
Home Accessories
Tableware
Frozen Vegetables
Ice Cream
Household Appliances
Toys
Fruits
Office Supplies
Office Supplies
TVs
Ice Cream
Packaged Food
Tableware
Office Supplies
Rice
Toys
Packaged Food
Sugar
TVs
Rice
Used Packages
Used Packages
Sugar
Vegetables
Used Packages
Yogurt
Vegetables
Yogurt
See also
Edit